Kyle Perrotti
The Mountaineer, Jun 1, 2017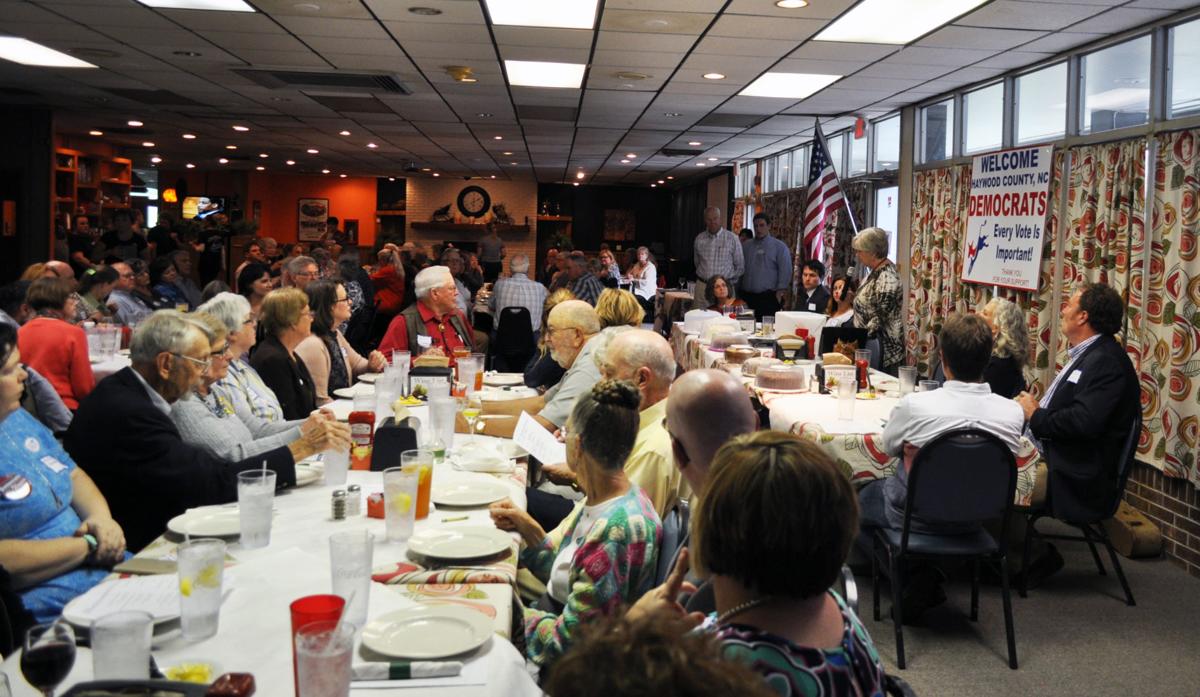 Moone, who was elected to the DNC by the N.C. Democratic Party State Executive Committee in 2016, speaks from extensive political experience. From his first position as president of a Young Democrats group, Moone served in many leadership positions in the party, including precinct chair, Catawba County Democratic Party chair and 10th Congressional District chair.
Moone began his address Tuesday evening by outlining some of the important changes being made by Chairman Tom Perez at the Democratic National Committee to make the DNC more responsive and effective and rebuild the Party to win from the courthouse to the White House.
A retired pastor, Moone, told the crowd that he had also come to Haywood County to "preach a little Democratic gospel."
"I don't have the time tonight to talk about all the things that Senate President Pro Tem Phil Berger, House Speaker Tim Moore and the rest of that Republican crowd in Raleigh are doing to take N.C. backwards and hurt opportunity for working people in our state," he said. "These folks continue to undermine public education and seem far more interested in tax cuts for corporations and the wealthy than supporting the needs of our school children. That's why they pass fear-mongering bathroom bills and big tax cut budgets for the rich in the middle of the night."
He said that if it weren't for Democrats like Joe Sam Queen, Terry Van Duyn, Susan Fisher, John Ager, Brian Turner and others, "there is no telling what Republicans would try to get away with."
"That's why we must send these good Democrats help in 2018," said Moone. "That's why we must 'Break the Majority.'"
Several candidates for the 2018 general election addressed the crowd, including Phillip Price and Matt Coffay, who have launched campaigns for the 11th Congressional District seat currently held by Rep. Mark Meadows; and Michael Sorrells who is running for re-election to the Haywood County Board of Commissioners.
Register of Deeds Sherri Rogers and Sheriff Greg Christopher also formally announced their intentions to run for re-election.
Canton Alderman Zeb Smathers led the group of municipal candidates who will be on the ballot in November and introduced Kristina Smith who formally announced her candidacy for Canton alderwoman.
Chairman Myrna Campbell also recognized Maggie Valley Alderman Mike Eveland who announced his intent to run for re-election.
Other speakers included former N.C. Senate candidate Jane Hipps and former N.C. House candidate Rhonda Cole Schandevel.  Both indicated they are still contemplating the possibility of running in 2018.
"It's really exciting to see this many people engaging so early in the election cycle," said Campbell, in her introductory remarks.
Visit www.haywooddemocrats.wordpress.com to learn more about the Haywood Democratic Party.
For additional articles on the current Democratic candidates challenging US District 11 Representative Mark Meadows, see:
http://www.themountaineer.com/news/coffay-plans-a-grassroots-campaign/article
and
http://www.themountaineer.com/news/phillip-price-leans-on-experience-compromise-in-race-for-congressional/article